About Bill Garvin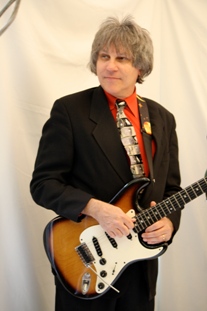 From the moment Bill listened to a guy on the radio named Lonnie Mack doing an instrumental version of "Memphis", he was hooked on guitar. "Whenever I heard that song come on the radio, I grabbed a broom stick and started wailing." Bill played in several bands including the Copper Poppy (people thought they were the Copper Potty), Labyrinth (very few people could pronounce it, much less spell it), and the Burger City Stompers (which has currently reformed as the Veggie Burger Country Nice Guys).

Bill majored in music in college where he learned just enough theory and arranging to irritate the heck out of the rest of the guys with the "subtle nuances" he claims to hear when the band is working on a new tune.

Along the way, Bill was lucky enough to hook up with a group that was backing some stars from the 50's and 60's and got to work with such artists as Chuck Berry, The Coasters, The Drifters, The Platters, Del Shannon, Peter Noone (Herman's Hermits), Mary Wells, Little Anthony and the Imperials, Percy Sledge, Sam Moore (Sam and Dave) and Bo Diddley.

Bill is making a living strictly from music. Besides playing in the band, he teaches guitar at a music store. Bill is fortunate enough to have the support and love from his wife Katie, who never complains about all the time he devotes to practicing, rehearsing and gigging.